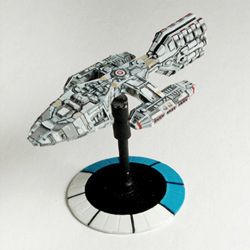 The Protector is now available for purchase and I've just added it to the Hyperdyne Astronautics page.
Additional products will be coming soon - 180 degree adapters, and 2-post and 3-post counter stands. I'll probably get those ready for sale after Gen Con.
NEWS
Gen Con - Ninja Magic is going but due to a glitch within the GPA, whom I normally buy a booth from, I was unable to secure a booth for myself. So this year the plan is to have my products at the GPA Showcase booth. I'm working feverishly to figure out my display such that I take up as little room as possible while still having enough signage that people can find me - not an easy task.